The international health crisis has caused many of us to take a closer look at our health and taking care of ourselves. But the disruptions around the health crisis have also caused many to look at securing, supplementing or replacing their income source. As many news sources report the climbing profits of online retailers and e-commerce, these reports have inspired online business and entrepreneurial efforts in people looking for financial independence. ODESHE was launched to cater to the demand for an inspiring, Income-earning opportunity by providing premium natural products for sale, which you may have read about in our other articles. With ODESHE, you can join for free, and qualify to earn a monthly bonus of £2,500.
But ODESHE is causing it's own disruption in the market with our newest technology acquisition! Beyond the Equal Share bonus, beyond replicated webpages with automatic updates, beyond Angel Sponsoring, beyond the ability to earn Bitcoin or Bitcoin Cash and beyond the monthly C.A.S.H. bonus is a technology that can take your marketing efforts further and your current conversion of traffic higher: ODESHE Lead Capture!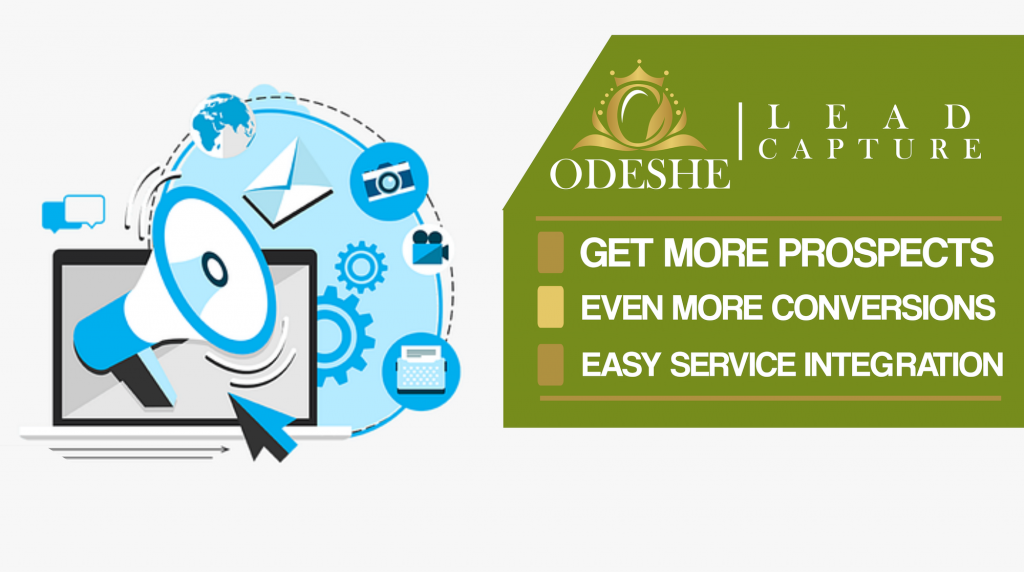 Get More Prospects
ODESHE Lead Capture allows ANY and EVERY online marketer to collect contact details that prospects submit, helping marketers find more people interested in their offers. With ODESHE Lead Capture you can:
Apply a smart "exit intention" pop-up on your website to capture leads who need more than 1 visit to your site
Embed a subscription/newsletter opt-in form in your website with easy WordPress plugin or a simple copy & paste of HTML
Share a dazzling opt-in page directly with prospects with a URL
Integrate directly with many email marketing systems like Aweber, GetResponse, InfusionSoft, HubSpot, SendInBlue and many more services…
Explore the many dynamic ways you can use Lead Capture here.
And you don't have to "annoy" every visitor to your site with an immediate pop-up! Although you can display an engaging pop-up to every visitor, you can also limit display to every visitor of a specific page on your site, or even just to those who are about to leave your site/specific page. Based on what your campaign offers, you could also launch a Lead Capture after a visitor is inactive on your site for a period of time, a period of time that you can customise. Lead Capture even lets you specify whether only new visitors or returning visitors to your site see your Lead Capture pop-up, as well as many other targeting features like time on page, page scroll distance, device being used, physical location, and even more control features to further optimise conversions!

We also have an amazing range of opt-in display formats besides a pop-up you can use to subtly appeal to prospects, and that you can test to see which performs best:

There are also well over 40 templates for your to use, in each opt-in format, as an easily customisable design to generate your appealing pop-up in just minutes! With the ODESHE Lead Capture system, you can apply creativity to find out what works, and you can start with the templates and formats available. Generating your design is as easy as working in Powerpoint, and the most you may ever have to do with code is copy & paste!
Easy Integration with Services
Once a prospect submits their details through an ODESHE Lead Capture opt-in form, we make it so simple to manage all your new lead's details. We provide a default store of prospect details that you'll always be able to access. But we also provide direct integration with many of the best email marketing and tracking services available online!
That's right, you can integrate your favourite email marketing service to collect leads directly from Lead Capture. Lead Capture works with Aweber, GetResponse, SendInBlue, MailerLite and many other services, and will subscribe your prospect directly to the campaign you've made and selected!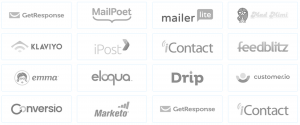 You can also monitor how successful your different pop-ups, slide-ins, full screens and other Lead Capture campaigns are working, using Google Analytics, Hubspot or other several other systems you use. ODESHE sources a growing range of products and services for our customers and marketers, and ODESHE Lead Capture is a masterpiece. You can explore the many ways ODESHE Lead Capture can easily enhance your marketing efforts online here.